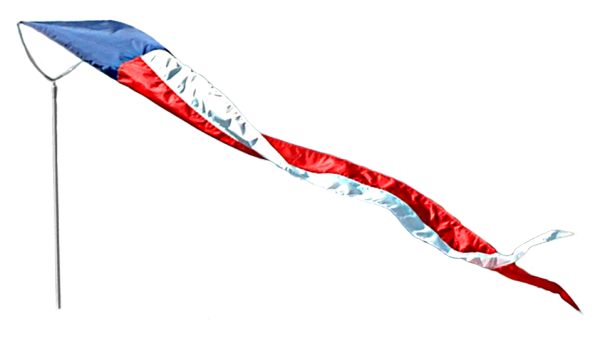 Dori Pole pennant flags rotate and flow horizontally in the slightest breeze. Standard and custom flag pennants are easily changed using a tension arm system and sleeves of the rotating yoke.
Similar to a standard flag, our pennant flags are made from nylon. There are 15 solid pennant stock color choices and 22 two-color collegiate options perfect for the sports fan wanting a fun and colorful way to show support for the favorite team or school! And, many custom colors are available for an extra charge for both solid color and two-color combinations. Special-order custom imprints on solid nylon pennants and fully custom-designed digitally printed polyester pennants are available (see our 14' Limited Edition Specialty Pennants under PRODUCTS / Pennant Flags) for digitally printed examples.
These attention-getting pennants are easy to change and all ship with pennant arms. They are great for tailgating, festivals, or any special event. A bonus feature of our pennant flag system is that the flags help deter nuisance birds like geese, pelicans and seagulls. This make them great for lake homes, cottages, apartment communities and golf courses. Dori Pole pennants are not made to fit standard flagpoles and fit only our Dori Pole Swiveling Yoke.