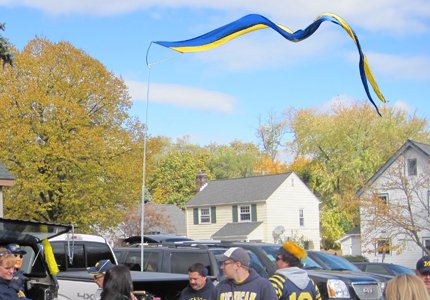 Want to amp up the excitement level of your next tailgating party? Dori Pole can help you stand out in the crowd, all while showing your support for your favorite sports team!
If you've ever been to a tailgate party, you know that they can be quite a spectacle. With an endless stream of fans milling around, grills smoking and cars navigating their way through the chaos… how can you stand out and make your presence known? Thankfully, Dori Pole can help with our new tailgating kit! Consisting of a vibrant collegiate pennant flag, a wheel stand and a Dori Pole fiberglass pole, this kit assembles quickly and towers above the crowd.
Whether you're looking for a way to show your friends where you've set up camp or you want to show support for your favorite team on a larger scale, our Dori Pole tailgate party kit is the perfect way to stake your territory. If you'd like to learn more about our tailgate kit — or pick one up for your next party — visit our online shop to start building yours today.