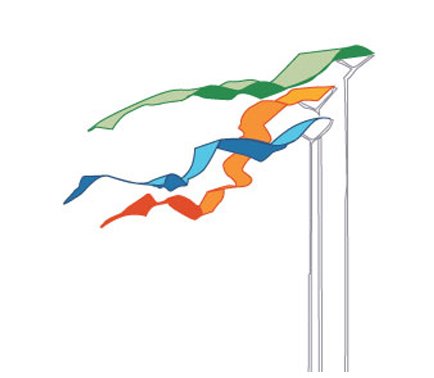 Dori Pole® is a pennant flag system that goes beyond the limits of style and time.
These long, beautiful pennant flags float beautifully in the wind and have been proven to help deter nuisance birds such as geese, seagulls and pelicans.
Our fiberglass poles are lightweight, flexible, and can reach up to 19 feet in height so your event or business is sure to get noticed.
The display poles are designed to swivel so your pennant flag resists tangling on the pole and always float beautifully.
Dori Pole Pennant System has attracted and welcomed people to special events since 1984 with its colorful visual "noise-in-the-sky" presence. The brainchild of landscape architect Vince Mackel, the eye- catching pennants flutter playfully above the crowd, inviting people to join in the fun/celebration.
Through the years, Dori Pole has added excitement to the Olympics, Super Bowls, World Cups, amusement parks and hundreds of other venues.  The unique design allows the Dori Pole system to dynamically respond to wind, yet the nylon pennants won't tangle thanks to the swiveling yoke bracket. The durable pennants are available in a myriad of styles and colors, and even the lightest breeze yields color in motion.
Dori Pole is available in telescoping, portable models or more permanent styles. All feature long flowing pennants with many single and double color choices.
The two-piece 19′ Height Dori Pole systems are often seen inviting attendees to ticket booths and concessions, designating restroom facilities, or installed at auto dealerships and sporting arenas.  The 19′ with 14′ pennant and the 13.5′ with 8′ pennant Telescoping models are ideal for locations where shorter heights are needed, or for temporary installations such as art fairs, foot races or festivals.
Realtors especially like the JR model, which is perfect for open houses and short-term displays.  Convenient, eye-catching and classic, the JR model, like all Dori Pole systems, is reusable for many years to come.
Consumers, too, enjoy the Dori Pole system for livening tailgate parties and family picnics.  Beachfront properties and boat docks are ideal settings for Dori Pole systems of all sizes. Also, it has been discovered that nuisance birds are often deterred by the long, flowing pennants at locations such as docks and rafts.
Please note that the our experience shows that the 14' long pennant on the 19' pole is most effective as a bird deterrent. We do not see the 8' long pennant being as effective for this use except when used on the shorter 12' JR pole on lake rafts, where the pennant is flying closer to the surface of the raft.
Please refer to the image below when figuring out Dori Pole spacing for your property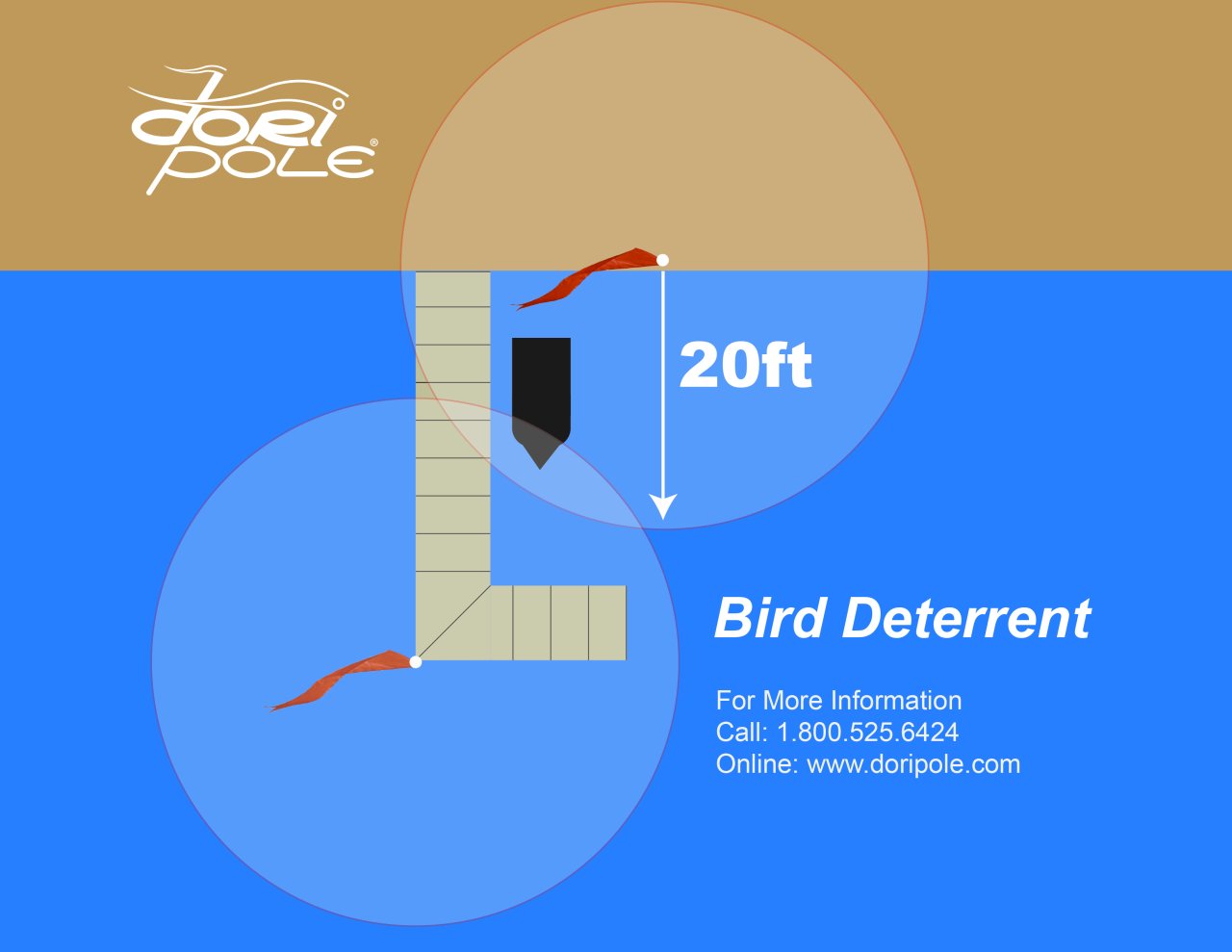 Our 22' tall, two-piece Dori Pole is not available through our online store due to the necessity to ship via freight truck. Please contact your sales representative for this model.
Dori Pole Press Release Renaissance Fairs